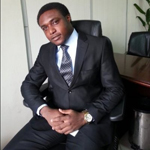 Adegbenro (Ade) will receive a Master of Science in Financial Risk Management from the University of Connecticut's School of Business MSFRM Program in May.
Ade joined the MSFRM program in 2015, after 5 years with Deloitte Nigeria. At Deloitte, he led a team of consultants responsible for valuation of financial instruments, providing technical accounting advisory services to clients and audit teams. He was the youngest member of Deloitte Africa's Financial Reporting Experts' Forum, comprised almost entirely of managers and senior managers.
Since joining UConn's MSFRM Program, Ade's enthusiasm for problem solving and helping others has been evident. A willing volunteer during many events organized by the program, he was quickly hired as a student Career Services Coordinator, working with the Program's career services team to review student resumes and provide career counseling and assistance.
Ade's in-class performance sparked his professors' interest, and he currently serves as a Teaching Assistant to first-year graduate students in the program. He supports a number of classes, including Financial Modeling, Risk Management, and U.S. Capital Markets, among others.
Prior to UConn, Ade graduated with double Honors and earned his Bachelor's in Computer Science and Economics from Obafemi Awolowo University in Nigeria. He was a member of the Alpha club, where he spearheaded the most successful blood-drive ever in Nigeria (2009), with 320 pints of blood donated in one day.
Ade has been especially helpful to professors in fine-tuning specific course details to improve relevance in the job market, and has represented the program during corporate outreach meetings to improve the program's visibility and student placement rates.