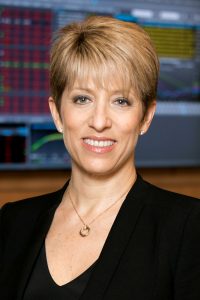 Cindy Finkelman
Chief Information Officer
FactSet Research Systems
Cindy Finkelman is currently the Chief Information Officer at FactSet Research Systems, a leading provider of financial data and analytic applications for investment management and investment banking professionals around the globe.  In this role, Cindy is responsible for internal technology strategy and delivery, the company's Project Management Office and the Quality Assurance function that supports FactSet's products; and works in partnership with senior business leaders throughout the company to build strategic, effective and efficient capabilities through innovative and transformational programs.
Cindy is a senior IT executive with 20+ years of diversified management, technology and operations experience and has a proven track record of designing and delivering technology driven transformational programs in many blue chip firms.  Prior to joining FactSet, Cindy was the Business Unit Chief Information Officer for the Corporate functions of New York Life Insurance Company, where she was responsible for all information technology services for the Corporate Center and the initiation and subsequent delivery of numerous transformational programs that enabled substantial business capabilities.  Past positions also included head of Global Operations and Systems for HR at ALICO where she was hired to build a world-class infrastructure and service delivery capability in preparation for an IPO; and Chief Technology Officer for Global HR at Merrill Lynch where she was responsible for modernizing the global HR infrastructure with the delivery of strategic global solutions and upgrading the IT capability measured with a balanced scorecard.  Cindy has also held leadership positions at Marsh & McLennan, Prudential, Booz Allan & Hamilton and MetLife in IT strategy, application & infrastructure management.  Cindy's passion is for people development; she has sponsored various mentoring programs and held key leadership roles in various Women in Technology initiatives.
Cindy has an MBA from New York University's Stern School of Business in Corporate Strategy & Entrepreneurship, and a BS from the State University of NY at Albany.  Cindy is currently a Board member of the Society for Information Management (SIM) NY chapter where she is responsible for the Program Committee and actively participates in SIM Women.  She also serves as the Secretary on the Board of Directors for Hearts of Gold, a nonprofit organization whose mission is to permanently improve the lives of NYC's homeless mothers and children, and is helping to build scale in that organization.  Cindy lives in New York City with her husband, two children and their dog.