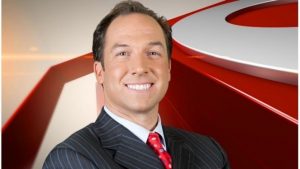 Meteorologist Gil Simmons joined Storm Team 8 in February 2003.
Gil served on active duty in the United States Marine Corps as a meteorologist/oceanographer for six years forecasting weather conditions all over the world from 1990 to 1996.
He then moved back to Connecticut to attend WCSU and forecast the weather locally.
Gil received two Emmy nominations for his weather coverage in Connecticut and was awarded 2002 Best Weathercast in Connecticut by the Associated Press.
A native of Foster, Rhode Island and Killingly, Connecticut, Simmons is a graduate of Western Connecticut State University and a member of the American Meteorological Society. He is one of a very limited number of meteorologists with the prestigious Certified Broadcast Meteorologist seal of approval from the American Meteorological Society.
Hobbies include Crossfit, snowmobiling, motorcycle riding, running, skiing and you guessed it………weather! As a matter of fact Gil maintains his own weather website www.weather4connecticut.com in his spare time. You can also find him on his facebook page talking weather or on twitter. and Instagram.
Gil also sets time aside to participate in a variety of community fundraisers and events. He jumps into an icy lake every Thanksgiving Day morning to help raise money for Muscular Dystrophy. He also donates time to groups fighting Multiple Sclerosis, The American Heart Association, Connecticut Red Cross, St. Jude, Veteran groups, The Smilow Cancer Center, various 5K charities and many others with great causes.
He looks forward to delivering the weather every weekday morning on NEWS 8, twitter, facebook and instagram too!