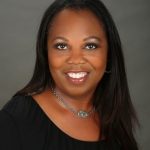 Karen Senteio is a Professional Coach and owner of VERVE LLC, Consulting Services which focuses on inspired living, working and leading.  She is an activist for helping individuals dare greatly and live authentic, courageous, and resilient lives connected to their purpose and inspired by their gifts.  She partners with leaders looking to open their hearts and minds to a different way of thinking and therefore leading.  She works with leaders who are intrigued by the concept of turning the myths of vulnerability as a weakness on its head and addresses what really makes a great leader – the courage to authentically show up and allow ourselves to truly be seen. She works with professionals to lead powerfully, authentically and courageously therefore creating cultures that not only innovate and create but delivers and thrives powered by connection, engagement, ideas and energy at all levels within the organization. See the website for testimonials.
Karen has over 25 years corporate experience in leadership positions in Project and Program Management, Operations, Information Technology, Diversity and Inclusion, Training, Facilitation and Change Management.  Her corporate experience provides a unique backdrop to her coaching and consulting practice providing a lens into the many challenges individuals face in the workplace and at home.  Karen collaborated to create the Coaching and Mentoring Program for Leaders and successfully trained over 350 leaders from middle management to senior leaders.
She is a credentialed member of the International Coach Federation (ICF); Certified Daring Way™ and Dare to Lead Facilitator™, LGH Enneagram Certified, PROSCI Change Management Practitioner, Higher Ground Leadership Coach®, Social +Emotional Intelligence Coach (ISEI), and an Oasis in the Overwhelm™ Facilitator.  She holds a PMP (Project Management Professional) from the Project Management Institute (PMI) and a Bachelor of Science degree in Business Management from Albertus Magnus College.
Services Include and Not Limited To:
Leadership Coaching and Training – Daring Way™, Dare to Lead™ and Higher Ground Leadership®
Group training and Facilitation
Individual and Group Coaching
Life Reinvention Coaching
Workshop Facilitation
Mastermind Group Facilitation
Web Site: www.karensenteio.net                                        
Email:  karensenteioCOURAGIST@gmail.com       
Phone: 860.500.7080
LinkedIn: https://www.linkedin.com/pub/karen-senteio/2/894/905