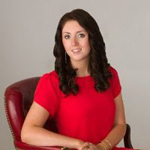 Katie Cavanaugh is graduating with a Bachelor of Science degree in Management Information Systems and a Bachelor of Arts degree in Political Science. Katie is a member of the Honors Program and a Presidential Scholar. A native of South Windsor, Connecticut, Katie has embraced opportunities within the UConn School of Business to grow as an academic, a leader, and a professional.
Katie served as a Project Leader for the UConn Consulting Group, an undergraduate strategy consulting group. As Project Leader, she led a team in performing strategic due diligence and market sizing efforts for a financial technology startup in anticipation of Series A funding. Katie has also served on consulting engagements with UConn Athletics and a private sector networking firm, while helping the UCG grow in to a respected student group of more than 20 members.
In addition, Katie has been the recipient of a SHARE grant from the Office of Undergraduate Research and has served as a Research Assistant at the Roper Center for Public Opinion Research. Her research has focused on the growing role of data analytics within American political campaigns and quantitative methodologies.
Katie has worked with the Honors Program as a Student Facilitator, leading a class of first year students to increase their involvement on campus. Later, she served as a Student Instructional Specialist, mentoring students seeking to become facilitators themselves. In addition, she has worked for both the UConn Foundation and UConn Fine Arts as a student IT technician.
As an upperclassman, Katie served as a student representative to the School's faculty-led Undergraduate Curriculum Revision Task Force. In this role, she communicated the student perspective and proposed solutions to current challenges.
After graduation, Katie will begin work as a Management Consulting Analyst with Accenture in Hartford, Connecticut.