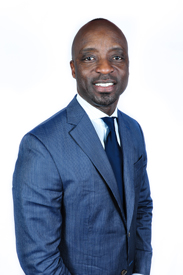 Oni Chukwu
Chief Executive Officer & President
etouches
Oni was appointed etouches Chief Executive Officer in September 2013 and is a member of the company's Board of Directors. He is responsible for the company's vision, global strategy and day-to-day operations. His focus is on accelerating the company's leading market position and global growth.
Oni is a veteran executive, investor and entrepreneur in the software industry. He most recently served as the Executive Vice President of Triple Point Technology, the global leader for in-cloud commodities management software. At Triple Point, Oni was instrumental in implementing and shepherding the company's record software industry-leading revenue and earnings growth over seven consecutive high-growth years. There he led and successfully integrated eight cross-border acquisitions and grew the company to 16 global offices, 450 marquee corporate customers on 6 continents, as well as to over seven consecutive INC 500 awards. In the summer of 2013 he completed the successful sale of Triple Point to ION, in one of the largest software deals of the year.
Prior to Triple Point, Oni served as EVP and CFO for Netkey Technology, Inc. (acquired by NEC) and Healthcare Software Synergies (acquired by United Healthcare).
Oni is a frequent speaker on entrepreneurship and technology industry topics at several business forums, including the annual World Entrepreneurship Summit (WES), the Association for Corporate Growth (ACG), and global event industry activities.
Oni serves on the boards of the Connecticut Technology Council (CTC), the Board of Governors of University of New Haven, Exago Technologies and DOMUS (a not-for-profit entity in education for at-risk youth).