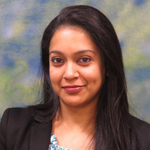 Supriya Jha
Global Solutions Lead & Program Manager
Career Frameworks and Diversity Inclusion
Mercer
Based in New York, Supriya Jha is a Global Product Development Lead in our Talent Strategy practice. She focuses on building innovative and thought leading solutions for our clients with a specific lens on diversity and inclusion strategies.
Prior to Mercer, she held the position of Vice President, Diversity and Inclusion at Bank of America and has previously worked with Merrill Lynch, Credit Suisse, American Red Cross and New York University.
As part of her work in Diversity and Inclusion, she has led various leadership development and employee engagement initiatives, many of which were large scale pioneering efforts for the organization. She is especially passionate about helping firms thrive through predictive data analytics and strategic initiatives that can be applied to the organization as a whole.
Supriya holds an MBA from MICA, India and a Masters in Organizational Psychology from Columbia University. On the personal front, she founded a 4200+ member, not for profit community in New Jersey which has received critical acclaim over the last 6 years. She has been awarded a New Jersey State Proclamation and other accolades for her contributions to the community.